Community Based Rehabilitation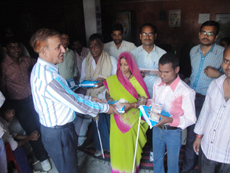 AICB Works In Rural Areas:

Some Path-Breaking CBR Initiatives
In our specific context, community-based rehabilitation (CBR) denotes a strategy within overall community-development programmes, for providing rehabilitation services to blind and low vision persons at their own door steps. It is intended to facilitate maximum inclusion and participation of our clients within the rural communities. It aims at:
Equalisation of opportunities
Promotion and protection of human rights
Holistic development and empowerment
Maximum integration into the fabric of rural life
The big advantage of CBR's activities is that our clients do not have to be segregated from their families and community for the purpose of rehabilitation. CBR saves the clients from being institutionalized in predominantly urban settings and takes them and their families on board in all decision-making processes.
AICB fervently subscribes to the CBR philosophy. For this purpose, we have been following the single-disability community-based approach.
It has been our experience that in the case of blind and low vision persons, in particular, we need special individualized strategies, which are local-specific and need-specific. We have come to the firm conclusion that a cross-disability approach, in such cases, tends to greatly dilute and diffuse attention and resources with hardly any gains by way of genuine support for the concerned visually impaired clients. All that it is able to provide is paper-bound grotesque figures and statistics.
With this disability-specific approach, AICB embarked upon CBR-related programmes during the 90's. Initially, these activities were rather sporadic and ad hoc in nature. These were undertaken during those opening years in Patna and Vaishali (Bihar) and Gurgaon (Haryana). We had the support of organizations like CBM (Germany), Swedish Federation of Visually Handicapped (SRF) and the Dark and Light Foundation (Holland).
However, our CBR projects received a major impetus effective 2000, with the Norwegian Association of the Blind and Partially Sighted (NABP) coming forward in a generous manner in support of our rural projects. We also received some support from CBM (Germany) and U. & N. Foundation, Delhi, for a couple of such activities, along with funding from our own side.
Thus, since 1996, AICB has been regularly running CBR projects and has, so far, covered the districts of Alwar and Bharatpur (Rajasthan), Banda, Chitrakoot, Fatehpur and Hamirpur (Uttar Pradesh), Muzaffarpur, Vaishali and Patna (Bihar), Nalgonda (Andhra Pradesh), Satna (Madhya Pradesh), Mewat and Gurgaon (Haryana).
The current project 'AICB Full Circle: Right of Way', funded by the Danish Association of the Blind (DAB) for the period July 2020-June 2023, was conceived as a continuation of the on-going pilot collaboration between DAB and All India Confederation of the Blind (AICB) in Jalaun, 'AICB: Full Circle: A Holistic Approach'.
Though the Project implementation began from 1st July 2020 in the districts of Pratapgarh and Jalaun but due to Covid 19 restrictions, some of the activities could not be carried out in the first quarter.
The project has three major components related to:
Individual empowerment of BPS persons and their families;
Advocacy towards community leaders and government officials;
Strengthening of AICB and Affiliates.
An important breakthrough has been the opening of Chapters of rehabilitated income generating visually impaired persons. Their self-help group is called a Chapter and they have their own elected office bearers. A local functionary is nominated as 'Patron'. We have successfully opened three chapters - one in Jalaun and two in Pratapgarh. The AICB affiliates, NAVH, Lucknow at Pratapgarh and Drishti, Chitrakoot at Jalaun, act as mentors.
We have also been making efforts with banks and financial institutions to convince them to provide low interest loans towards self-employment of the visually impaired persons. A breakthrough has been achieved with the first loan of Rs. 25,000 to a beneficiary. The bank has also extended Cash Credit Limit to a group of beneficiaries of the Jalaun Chapter. NHFDC is another Government run organization which has provided a loan of Rs. 718,450/- to 39 blind persons in these two districts for promotion of their businesses. However, the blind clients shall not pay any interest on the loan provided to them and it would be the responsibility of AICB to make the payment of original loan amount and 6% interest thereon to NHFDC.
An innovative development in our CBR projects, has been the introduction of smartphones in the monitoring process. All field staff were given smart-phones with a year connectivity and remain in touch with the headquarters and each other through video calling. Clients feel empowered to be able to speak with headquarters and very often, problems are resolved very easily.
AICB's CBR initiatives received a major fillip when the Lions Club International Foundation (LCIF) approached us in 2011 to explore the possibility of their joining hands with us in conducting such activities which they found to be most innovative, especially our micro-finance segment. Thus, AICB in partnership with the Lions Club of Allahabad City, launched another CBR programme in Kaushambi district (Uttar Pradesh) with support from LCIF. This is a unique partnership and it is for the first time that LCIF have supported a rehab project of this nature anywhere in the world. The project was of five years' duration.
A unique and distinguishing feature of our CBR services is our scheme of providing micro-finance. Here, we provide small amounts as rehabilitation grant of Rs. 15000 per head to rural blind trained under our CBR projects and having necessary motivation and ability. This financial assistance enables them to undertake small income-generating activities according to their local-specific situations. Earlier, we use to pay interest free loans to the clients and they were supposed to return the original amounts of loan without any interest with easy instalments to this office.
The need and importance of such support is crucial in view of the rather vulnerable socio-economic conditions of our clients in most rural areas. Poverty and visual impairment happen to be inextricably inter-related. The negative social attitudes, misconceptions and prejudices about the blind further tend to militate against providing them equality of opportunities. Most rural financiers, even nationalized banks, tend to shy away from providing financial credits, if they come to know that the applicant is visually impaired. Moreover, requests for loans from banks and government agencies take quite a long time to materialize and also carry rates of interest, which the visually impaired client can ill-afford.
It is further added that our field staff undertake intensive efforts to counsel parents about the need and importance of education for their visually impaired children. Such endeavours also cover children's siblings. In addition, wherever possible suitable schools are located and children referred for admission. For this purpose, we take the help of available special schools and wherever found appropriate, of mainstream schools having inclusive education facilities. However, it is a matter of considerable regret that appropriate facilities and necessary special educational inputs required for these children, have been found to be sadly missing in most mainstream schools.
Our CBR services also strive to cover the geriatric groups. They are helped to get pensions from local authorities/state governments. If needed, they are also imparted some basic training in independent mobility and helped to obtain bus passes/railway concession certificates along with other clients. The families of these elderly clients are also counselled and motivated to treat them as integral segments of the home establishments and interact with them with requisite affection and respect.
In addition, rural population belonging to extremely poor economic strata were helped upto 2019 by way of eye-screening and to overcome refraction problems by issuing corrective glasses. The optometrists employed in these projects undertook the task of eye-screening upto 2019, identifying patients requiring ophthalmic help and providing glasses--these services were provided totally free of cost. The work of eye-screening was also undertaken in mainstream schools for children and at central places in the villages, for adults.
Detail of the work carried out since 1997 is given below:
Training provided to - 6238
Economically rehabilitated BPS - 2889
Eye screening carried out - 661480
IOL surgeries carried out in collaboration with reputed hospitals - 34734
Eye glasses provided free of charge - 59335
Our CBR services have, certainly, contributed in a big way, towards enriching the lives of blind and low vision persons served. The real life-stories presented here illustrate the impact created by these services. However, there is no room for complacency or jubilation. We have a long way to go yet, so much more to do, so many pressing tasks to be completed. We look forward to useful collaborative partnership with one and all in furthering our objective of reaching out to the hitherto unserved/under served segments of our friends in the rural areas.
Success Stories