Community Based Rehabilitation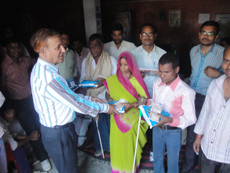 AICB Works In Rural Areas:

Some Path-Breaking CBR Initiatives
In our specific context, community based rehabilitation (CBR) denotes a strategy within overall community-development programmes, for providing rehabilitation services to blind and low vision persons at their own door steps. It is intended to facilitate maximum inclusion and participation of our clients within the rural communities. It aims at:
Equalisation of opportunities
Promotion and protection of human rights
Holistic development and empowerment
Maximum integration into the fabric of rural life
The big advantage of CBR's activities is that our clients do not have to be segregated from their families and community for the purpose of rehabilitation. CBR saves the clients from being institutionalized in predominantly urban settings and takes them and their families on board in all decision-making processes.
AICB fervently subscribes to the CBR philosophy. For this purpose, we have been following the single-disability community-based approach.
It has been our experience that in the case of blind and low vision persons, in particular, we need special individualized strategies, which are local-specific and need-specific. We have come to the firm conclusion that a cross-disability approach, in such cases, tends to greatly dilute and diffuse attention and resources with hardly any gains by way of genuine support for the concerned visually impaired clients. All that it is able to provide is paper-bound grotesque figures and statistics.
With this disability-specific approach, AICB embarked upon CBR-related programmes during the 90's. Initially, these activities were rather sporadic and ad hoc in nature. These were undertaken during those opening years in Patna and Vaishali (Bihar) and Gurgaon (Haryana). We had the support of organizations like CBM (Germany), Swedish Federation of Visually Handicapped (SRF) and the Dark and Light of Holland.
However, our CBR projects received a major impetus effective 2000, with the Norwegian Association of the Blind and partially Sighted (NABP) coming forward in a generous manner in support of our rural projects. We also received some support from CBM (Germany) and U. & N. Foundation, Delhi, for a couple of such activities, along with funding from our own side.
Thus, since 2000, AICB has been regularly running CBR projects and has, so far, covered the districts of Alwar (Rajasthan), Banda and Chitrakoot (Uttar Pradesh) Muzaffarpur (Bihar), Nalgonda (Andhra Pradesh) and Satna (Madhya Pradesh). Currently, the Confederation is running CBR programmes in the districts of Mewat (Haryana) and Hamirpur and Fatehpur (U.P.).
AICB's CBR initiatives received a major fillip when the Lions Club International Foundation (LCIF) approached us in 2011 to explore the possibility of their joining hands with us in conducting such activities which they found to be most innovative, especially our micro-finance segment about which we shall talk in detail a little later. Thus, AICB in partnership with the Lions Club of Allahabad City, launched another CBR programme in Kaushambi district (Uttar Pradesh) with support from LCIF. This is a unique partnership and it is for the first time that LCIF have supported a rehab project of this nature anywhere in the world. The project is of five years' duration.
Up to eight field workers, one project supervisor and one optometrist constitute the group to be appointed in each project for one district. The staff are chosen from the same district where the programme is to work or its nearby locations. They are provided intensive orientation for about two months in different aspects of their work such as:
Practical training under blindfolds in such important skills as orientation and mobility, daily living, household work, rural occupations etc.
attitudinal aspects and public education
Concessions/facilities for the blind, and various government rural schemes
Identification of blind and low vision persons and need-assessment
Preparation of individualized rehabilitation plans
Reporting and documentation
Subsequent to this orientation programme, the staff are deployed to cover the entire area of the district, block by block and start identification of visually impaired clients in that particular area. After completion of survey of one block in a district, our Field Workers and Project Supervisor of that district would divide the blind and low vision population of the block age-wise and undertake assessment of the needs of each identified client. Thereafter, the process of actual service-delivery commences at the client's home. The Optometrist looks after the sight preservation and blindness prevention segment of the programme.

In the first instance, identified blind and low vision persons are imparted training in self-help skills like:
Orientation and independent mobility
Daily living (grooming, house hold, chores, washing etc.)
Personal management
Social interaction and communication
During the last five years, a total of 1567 persons (M-1011, F-556) have been imparted such training which has enabled them to perform related activities with ease and independence.
Our field workers make it a point to provide training to clients in vocational skills most appropriate to their specific family situations. These skills could include:
Rural craft practiced in the concerned villages
Dairy work
Poultry farming
Goat-keeping
Pig rearing
Running petty shops
Simple farming activities
A unique and distinguishing feature of our CBR services is our scheme of providing micro-finance. Here, we provide small amounts as loan assistance on interest-free basis to villagers trained under our CBR projects and having necessary motivation and ability. This loan assistance enables them to undertake small income-generating activities according to their local-specific situations. The amount usually ranges from Rs. 8000 to Rs. 15,000.
The need and importance of such support is crucial in view of the rather vulnerable socio-economic conditions of our clients in most rural areas. Poverty and visual impairment happen to be inextricably inter-related. The negative social attitudes, misconceptions and prejudices about the blind further tend to militate against providing them equality of opportunities. Most rural financiers, even nationalized banks, tend to shy away from providing financial credits, if they come to know that the applicant is visually impaired. Moreover, requests for loans from banks and government agencies take quite a long time to materialize and also carry rates of interest, which the visually impaired client can ill-afford.
During the last five years, 734 persons (M-488, F-246) have been provided INR 60,43,000/-as such interest-free loans to enable them to start their own income-generating ventures. An amount of INR 32,77,305/- from such assistance has been returned by the recipients so far during the same period and the outstanding amounts are still being returned. The finance is paid back by them in easy installments. The money thus received back, helps to build a revolving fund, which is again used for extending similar assistance to needy visually impaired villagers on interest-free basis. This also becomes a shining example of the blind beneficiaries helping their fellow villagers.
Our field staff undertake intensive efforts to counsel parents about the need and importance of education for their visually impaired children. Such endeavours also cover children's siblings. In addition, wherever possible suitable schools are located and children referred for admission. For this purpose, we take the help of available special schools and wherever found appropriate, of mainstream schools having inclusive education facilities. However, it is a matter of considerable regret that appropriate facilities and necessary special educational inputs required for these children, have been found to be sadly missing in most mainstream schools.
Our CBR services also strive to cover the geriatric groups. They are helped to get pensions from local authorities/state governments. If needed, they are also imparted some basic training in independent mobility and helped to obtain bus passes/railway concession certificates along with other clients. The families of these elderly clients are also counseled and motivated to treat them as integral segments of the home establishments and interact with them with requisite affection and respect.
The needy clients are also provided 3-band radio sets under our projects.

The basic criteria are:

--> Beneficiary should be extremely poor.
--> Should not already be having such radios.
Wherever necessary, clients are trained to use the radio sets which go a long way towards providing them ready access to useful information about the world around and healthy recreation.
A total of 923 persons (M-613, F-310) have been provided these radio sets during the last five years.
Economically rehabilitated blind and low vision clients are motivated to form self-help groups or join one of the existing such groups in the project areas. These self-help groups prove useful in the long run in the further development of small ventures marketing of products etc.
Our field staff identify blind and low vision persons in villages needing ophthalmic help, locate nearby eye hospitals and motivate them to help such cases, refer patients to these hospitals. In particular, help is provided through identified hospitals for undertaking cataract surgeries. The hospital staff are assisted to locate individuals needing such services by organizing camps etc. and help is provided, wherever required for IOL surgeries in the identified hospitals. The individual is also provided follow-up support after the surgery, as far as possible. All these facilities are provided free of charge. As many as 10498 (M-5591, F-4907) IOL surgeries have been conducted under our projects over the past five years.
In addition, rural population belonging to extremely poor economic strata are helped by way of eye-screening and to overcome refraction problems by issuing corrective glasses. The optometrists employed in these projects undertake the task of eye-screening, identifying patients requiring ophthalmic help and providing glasses--these services being provided totally free of cost. The work of eye-screening is undertaken in mainstream schools for children and at central places in the village, for adults.
Eye-screening has been undertaken for 187753 persons (M-99875, F-87878) (Children-92030, Adults-95723) during the last five years. A total of 19468 eye glasses have been issued free of charge to 10670 male and 8798 female.
Our CBR services have, certainly, contributed in a big way, towards enriching the lives of blind and low vision persons served. The real life-stories presented here illustrate the impact created by these services. However, there is no room for complacency or jubilation. We have a long way to go yet, so much more to do, so many pressing tasks to be completed. We look forward to useful collaborative partnership with one and all in furthering our objective of reaching out to the hitherto unserved/under served segments of our friends in the rural areas.
Success Stories
Self-employed blind persons under AICB-CBR project
List of Self-employed blind persons under AICB-CBR project