Braille Press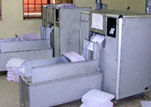 Set up in 1997 with assistance from the Norwegian Association of the Blind and Partially Sighted, also assisted by the Swiss Umbrella Association of the Blind, the Press today is the largest Braille printing house in the country with many notable accomplishments to its credit. It has received Best National Braille Printing Press Award twice (2009 & 2012) from the Union Ministry of Social Justice & Empowerment.
Equipped with five high-speed Braille embossers, producing Braille at a breath-taking speed of 400 to 1000 characters per second.
Produced 671 Braille titles running into 218076 volumes and 21403768 pages during last three years.
Made available school textbooks in Braille to 10 states— Bihar, Chhattisgarh, Delhi, Haryana, Karnataka, Madhya Pradesh, Punjab, Rajasthan, Tamilnadu and Uttar Pradesh at highly subsidized rates.
Made accessible to the blind, National Book Trust Publications in Braille in various languages at a price less than their print editions.
Brings out 12 periodicals in English, Hindi, Gujarati, Kannada, Marathi and Tamil languages.